Profile of Invited Expert "Pocar"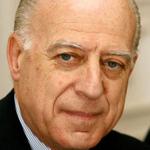 Profile
Full Name

Judge Fausto Pocar

Position

Professor Emeritus of International Law

Organization

University of Milan

Biography

Fausto Pocar is Professor Emeritus of International Law at the Law Faculty of the University of Milan, where he also served as Dean of the Faculty of Political Sciences and as Vice-Rector. Since 2012 he is the President of the San Remo International Institute of Humanitarian Law.

Appointed 1 February 2000, he has been the longest serving Judge of the ICTY, and was its Vice-President (2003-2005) and President (2005-2008). He served first in Trial Chamber II and, as of April 2000, in the Appeals Chamber of the ICTY and of the ICTR, until their closing respectively in 2017 and in 2015. He was appointed judge ad hoc to the ICJ in the cases Belgium v. Switzerland, 2011, and Ukraine v. Russian Federation, 2017, where he is currently sitting.

Judge Pocar has a longstanding experience in UN activities. Elected to the Human Rights Committee under the ICCPR (1994-2000), he was its Chairman (1991-1992) and Rapporteur. He was Special Representative of the UN High Commissioner for Human Rights for visits to Chechnya and the Russian Federation (1995-1996). As a legal adviser of the Italian Delegation, he participated in several sessions of the UN General Assembly and of the UN Commission on Human Rights. He attended the World Conference on Human Rights (Vienna,1993) and is the author of one of its preparatory discussion documents. He was the Italian delegate to the Committee on the Peaceful Uses of Outer Space and its Legal Subcommittee (1984-1995), and is currently a member of the panel of Arbitrators on Outer Space Disputes, PCA.

Judge Pocar has also devoted attention to EU Law and Private International Law. He published one the first Italian manuals of EU Law (1973, now 11th ed.), and was the Rapporteur of the revision of the Brussels I Convention (1996-1999) and of the Lugano Convention (2007). He also was Delegate, Chairman or Rapporteur on many sessions of the Hague Conference on Private International Law.

A Dr h.c. (Antwerp and Buenos Aires), Judge Pocar is the author of hundreds of publications on International Law, Human Rights and Humanitarian Law, International Criminal Law, Private International Law and European Law. He lectured at the Hague Academy of International Law and is a member (since 1997) and treasurer of the Institut de Droit International. In 2014, he was awarded the Great Cross Knighthood by the President of the Italian Republic.
History
Member for

5 years 16 weeks