Introduction to the Forum
This Forum is run by Dr. Richard H. Steinberg of the Human Rights Project at UCLA School of Law (UCLA Law) with the support of the Office of the Prosecutor of the International Criminal Court (ICC OTP).
The purpose of the Forum is to allow members of the legal community, governments, academics, and others to debate complex issues of international criminal law faced by the Office of the Prosecutor in the course of its work at the ICC. Membership and participation in this Forum are open to everyone. We welcome you to express your opinion, and we request a civil debate which directly addresses the legal issue set forth in the current question.
Since its inception in 2002, the ICC has advanced international justice and human rights by embracing new developments in human rights law. As with any emerging body of law, it is important to gather as much insight as possible on highly contested issues. And what better way to share insight than through the Internet?
The Forum will deal with one substantive legal issue at a time in the form of a question—we anticipate addressing five questions a year. The questions are developed jointly by the ICC OTP and UCLA Law. Some of the world's preeminent legal experts on the issue raised by the questions will be invited to give their opinions. The relevant decisions of the Prosecutor or the Judges of the ICC will also be included. Those opinions, in turn, provide a strong foundation for further online discussion.
We invite every interested person to register and post their own views on the question in a courteous and polite manner. Posts should be on-point. The Forum does not permit hate speech or ad hominem attacks.
Posts which violate the Rules and Guidelines will be promptly removed. Posters who violate the guidelines may be prohibited from further postings. The subject matter that concerns the ICC (crimes against humanity, genocide, gender crimes, and so on) is adult in nature, and accordingly this Forum is not appropriate for children.
This Forum is not an opinion poll. It is about allowing voices to be heard, but not counted. The number of posts for or against a certain point of view is not relevant here. What's compelling is the argument. While the ICC OTP will be informed by the Forum, the Forum is obviously not intended to direct the OTP's actions.
You're free to read the Forum anonymously, but to join the discussion, you must register with your real name and email address. Your email address is not publicly displayed, pursuant to our Privacy Policy Statement. The Forum has an internal messaging system and will serve as an intermediary between member conversations, unless those members choose otherwise. Each member may have an optional biographical profile. Spamming or advertising services is not permitted.
Your first few comments won't be displayed until approved by our staff. After you're a trusted member, your posts will no longer require advance approval.
By posting on this Forum, an unrestricted license to edit, publish, and republish the material is granted to the Regents of the University of California without restriction of any kind. Some issues discussed in the Forum may be compiled into book or article format for distribution.
UCLA Law hopes that this Forum will help provide clarity on the legal positions of difficult, novel and complex issues facing the International Criminal Court. Please join us. We look forward to reading your contribution.
Web work on the Forum is by Pipsqueak Productions. If you have feedback or other comments, please send email to info@iccforum.com.

The Promise Institute for Human Rights at UCLA School of Law is the center of human rights education, research, and advocacy at UCLA and around the region. Founded with a visionary $20 million gift in 2017, the Promise Institute at UCLA Law trains the next generation of human rights lawyers and leaders, generates vital scholarship, and develops programs for on-the-ground assistance to address the most pressing contemporary human rights concerns of our times—from race and migration to the environment and technology, matters which resonate with its location in Los Angeles, and which are reshaping our world.
The Institute brings together faculty with expertise and experience in international human rights, immigration, national and international security, civil rights, constitution writing, the laws of armed conflict, transnational and international criminal justice, environmental law and public interest law, and maintains a focus on broad accountability for human rights violations and international crimes. The Promise Institute supports curricular expansion, bringing leading scholars to campus.
Students engaged with the Promise Institute gain a strong foundation in human rights law and have the opportunity to participate in clinics, experiential programs and other endeavors that enhance their educational experience and prepare them for impactful careers in the field. The Institute supports a diverse program of scholarship and fellowship programs, as well as activities and publications that will serve as fora for international human rights lawyers and scholars from UCLA and beyond.
Richard H. Steinberg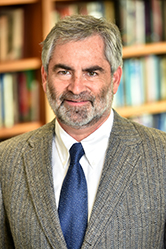 Professor Richard H. Steinberg is the Jonathan D. Varat Professor of Law & Professor of Political Science at the University of California, Los Angeles. He writes and teaches in the areas of international law and international relations, with a focus on international economic law, international criminal law, and human rights. He currently teaches International Trade Law, International Business Transactions, Contemporary Issues Facing the ICC, and Theories of International Law.
In addition to his UCLA appointment, Professor Steinberg is currently Research Fellow at Stanford's WSD HANDA Center For Human Rights and International Justice, and Director of Trade Policy Research at the Berkeley Roundtable on the International Economy (BRIE) at UC Berkeley.
Professor Steinberg is a Member of the Council on Foreign Relations, Counsellor to the American Society of International Law, Chair of the International Trade Law Committee of the American Branch of the International Law Association, and Editor-in-Chief of the award-winning ICC Forum. He served on the Board of Editors of the American Journal of International Law (2004–14) and on the Editorial Board of International Organization (2003–12). He has taught law courses on six continents including at Stanford Law School, the UC Berkeley (Boalt Hall) School of Law, Sciences Po (Instituts d'études politiques) in France, and the University of Coimbra in Portugal.
Professor Steinberg has written over fifty articles on international law. Recent books include: Contemporary Issues Facing the International Criminal Court (Brill/Nijhoff, 2016); Assessing the Legacy of the ICTY (Martinus Nijhoff, 2011; BCS translation, ICTY, 2011); International Institutions (co-edited) (SAGE, 2009); International Law and International Relations (co-edited) (Cambridge University Press, 2007); and The Evolution of the Trade Regime: Economics, Law, and Politics of the GATT/WTO (co-authored) (Princeton University Press, 2006; Chinese translation, Peking University Press, 2013).
Prior to arriving at UCLA, Professor Steinberg worked as Assistant General Counsel to the United States Trade Representative in Washington, D.C., and later as an associate with Morrison & Foerster in San Francisco. He also served as Project Director at BRIE, was a Ford Foundation Fellow at Harvard (1988–89) and a MacArthur Foundation Fellow at Stanford (1987–88). Professor Steinberg has a B.A. from Yale University (1982), a J.D. degree from Stanford University (1986), and a Ph.D. from Stanford University (1992). He has been a member of UCLA's law faculty since 1996.
Forum Schedule
All debates are open for comment.