Profile of Member "karen.kwok"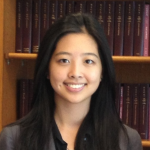 Profile
Full Name

Karen Kwok

Position

Associate Editor

Organization

UCLA School of Law

Biography

Karen is a second-year J.D. student at UCLA School of Law. She is an Associate Editor at the ICCForum.com and the Deputy Chief Production Editor for the UCLA Journal of International Law and Foreign Affairs.

Karen's interest in international law and human rights developed while she completed her undergraduate degree in Peace and Conflict Studies at University of California, Berkeley.

While at Cal, Karen co-founded an undergraduate journal focused on human rights issues. She recently served as a law clerk for Paul Hoffman at Schonbrun, DeSimone, Seplow, Harris, Hoffman & Harrison LLP, working on international human rights cases brought under the Alien Torts Statute, as well as domestic civil rights cases.
History
Member for

10 years 15 weeks