Profile of Invited Expert "Askin"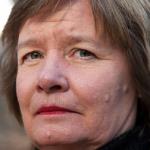 Profile
Full Name

Kelly Dawn Askin, J.D., Ph.D.

Position

Senior Legal Officer, International Justice

Organization

Open Society Justice Initiative

URL

Biography

Kelly Dawn Askin, BS, JD, PhD (law) is senior legal officer for International Justice in the Open Society Justice Initiative (since 2004). She was 2004-2005 Fulbright New Century Scholar on the Global Empowerment of Women. Since 1995, Askin has taught or served as a visiting scholar at Notre Dame Law School, American University's Washington College of Law, Harvard's Kennedy School of Government, Yale Law School, and Oxford University. From 1999-2003, she also served as executive director of the International Criminal Justice Institute and American University's War Crimes Research Office.

Askin served as a legal advisor to the judges of the International Criminal Tribunal for the former Yugoslavia and for Rwanda from 2000-2002, and for over fifteen years has also served as an expert consultant, legal advisor, or international law trainer to prosecutors, judges, and registry at the International Criminal Tribunal for the former Yugoslavia, the International Criminal Tribunal for Rwanda, the Serious Crimes Unit in East Timor, the International Criminal Court, the Special Court for Sierra Leone, and the Extraordinary Chambers in the Courts of Cambodia. She also works on efforts to prosecute international crimes in domestic courts, including a mobile gender justice court in eastern DR Congo.

Her books include War Crimes Against Women: Prosecution in International War Crimes Tribunals (1997) and the three-volume treatise Women and International Human Rights Law (1999, 2001, 2002, co-editor). She has lectured in dozens of countries and has authored over fifty law review articles and book chapters on various areas of international criminal law, international humanitarian law, and international justice. In 2005 she was awarded the prestigious Prominent Women in International Law award by the American Society of International Law.

Her op-eds have appeared in the New York Times, International Herald Tribune, and the Washington Post. She has testified before the U.S. Senate Committee on the Judiciary and she has appeared on CNN, BBC, and NPR, among others. She serves on the executive board of the American Branch of the International Law Association, the International Judicial Academy, and International Criminal Law Services.
History
Member for

11 years 23 weeks